Regional Magistrates and Judges Trained in Juvenile Justice Reform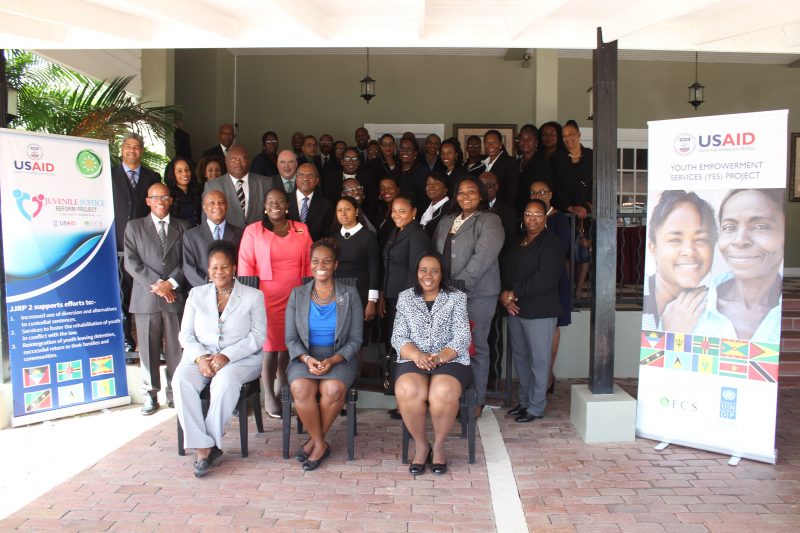 Regional Magistrates and Judges Trained in Juvenile Justice Reform
As a result of a three-day training workshop in St. Lucia, Eastern Caribbean judges and magistrates are able to better support international agreements that outline the rights of a child, rehabilitative approaches, and juvenile justice reform. This workshop was hosted by the United States Agency for International Development's (USAID) Juvenile Justice Reform Project (JJRP), in collaboration with the Eastern Caribbean Supreme Court (ECSC).
The training focused on child development; mental health and risk assessments; the United Nations Convention on the Rights of the Child; model U.N. Child Justice Legislation; diversion and alternative sentencing; and key elements of child justice reform. It augments previous justice sector training and strengthens the capacity of regional stakeholders to utilize alternative sentences and restorative justice solutions for juvenile offenders.
During the opening ceremony, Simone Brown, Education Development Officer at USAID Eastern and Southern Caribbean, told judiciary senior members that their leadership was crucial to the reform process. "Many partners will look for your leadership to drive the collaboration of other stakeholders including the police, social services, and families. This will allow us to better establish systems that ultimately result in serving the interests of children, their families, and society at large," she stated. Also addressing the ceremony were Director General of the OECS, Dr. Didicus Jules, Attorney General of St. Lucia the Honorable Stephen Julien and Justice Appeal and Chairman of Judicial Education Institute of the Eastern Caribbean Supreme Court, the Honorable Gertel Thom.
The JJRP is funded by the United States Government, through USAID, and implemented by the OECS Commission. The Project supports six OECS member states to increase diversion approaches, strengthen rehabilitation services, and improve the reintegration processes for children who come into conflict with the law.
/regional-magistrates-judges-trained-juvenile-justice-reform/