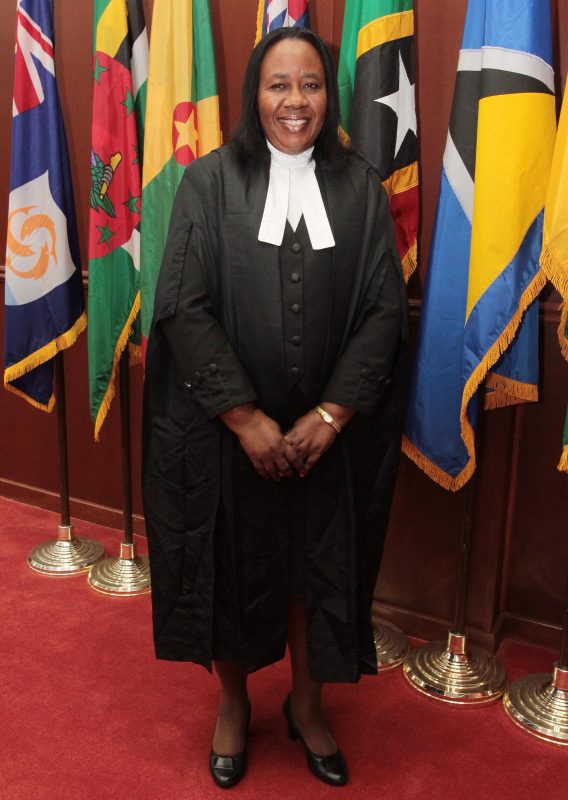 Her Ladyship, the Hon. Justice Gertel Thom 
Her Ladyship, the Hon. Justice Gertel Thom, was born in Guyana, often referred to as the "Land of Many Waters".
She is an Honors graduate of the University of the West Indies, Cave Hill Campus with a Bachelor of laws Degree and earned her Legal Education Certificate from the Hugh Wooding Law School in 1982. Later that year she was called to the Guyana Bar
Prior to joining the bench, Her Ladyship served at almost every level of the justice system starting as a State Counsel in the Director of Public Prosecutions Chambers in Guyana. In 1989 Her Ladyship was appointed Legal Adviser to the Geology and Mines Commission.
Her Ladyship's genuine love for her Caribbean people and Caribbean jurisprudence lead her to the Emerald Isle of the Caribbean In 1991 where her ladyship was appointed Principal Crown Counsel in the Attorney General Chambers of Montserrat. In 1994 after serving the government and people of Montserrat for over three years as Principal Crown Counsel she was appointed Attorney General.
In December 1999 Her Ladyship left Montserrat and continued her Caribbean sojourn this time in the neighboring island of Antigua where Her Ladyship was appointed Deputy Solicitor General. In 2001, Her Ladyship was appointed Attorney General in Antigua and Barbuda. Her Ladyship has the distinction of being the first woman Attorney-General of Antigua and Barbuda and the first woman to sit in the Antigua and Barbuda Cabinet.
Her Ladyship's philosophy of service above self and her desire to serve the people of the Caribbean region in a more holistic way came to pass in 2005 where her Ladyship joined the Bench of the Eastern Caribbean Supreme Court as a High Court Judge assigned to the island of Saint Vincent and the Grenadines.
In 2014 her ladyship was appointed to the Court Appeal and continues to serve the people of the OECS region as a Court of Appeal Judge.
Her Ladyship is married to Justice Keith Thom and they have two Children Kevin and Kristel.